Old River II Paddling Trail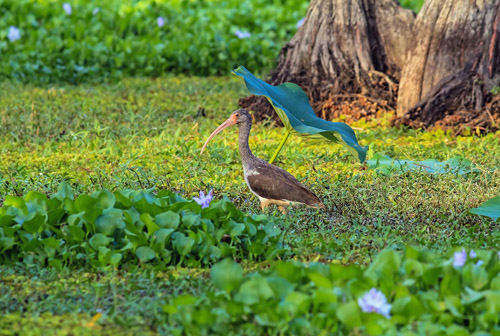 Description: Still, shallow waters, a beautiful bottomland hardwood forest, and nesting water birds make the 3-mile loop trail of the Old River II Loop Paddling Trail an exceptional paddling experience.  The trail first heads upstream in Big Cypress Bayou to an old oxbow of the bayou. In addition to the famed bald cypress trees, paddlers will see overcup oak, willow oak, water elm trees, numerous species of hickory trees, and a diverse array of aquatic and terrestrial plants. This route is excellent for fishing and watching wildlife including white-tailed deer, raccoons, and other mammals. 
Location: Put-in and take-out at Backwater Jack's R.V. Park, 621 Longs Camp Rd. Karnack,TX 75661, 903-679-3427.   Note:  Five paddling trails begin at this site.  Inquire locally which trail best suits your paddling adventure.
Directions/map: From Marshall, take Hwy 43 north for 14.7 miles. Turn left onto FM 134 West for 3.5 miles; then right on Longs Camp Rd (CR 2403) for less than a mile to the end of the road.
Map: Click here.
Float time: 1-2 hours
Website: Click here.
Outfitters:    
This list may not comprehensive; inclusion in this list does not constitute an endorsement.
* Backwater Jack's R.V. Park  621 Longs Camp Rd., Karnack, TX 75661;
903-679-3427    www.backwaterjacksrv.com/
* Johnson's Ranch Marina On Caddo Lake - 5131 East Cypress Drive, Uncertain, TX 75661;
903-789-3213 or 903-789-3268     www.johnsonsranch.net
* East Texas Sonar 3200 N. Eastman Road, Longview, TX 75605;
903-663-4648 www.easttexassonar.com
* Riverbend Outfitters, LLC, 2019 FM 726, Jefferson, Texas, 75657
903-746-7069 or 903-926-0203   www.riverbendoutfittersllc.com
Important note: Many paddling trails flow through private property. When the land along a trail is private, paddlers may take out on sandbars within the riverbed, but exiting a canoe or kayak above the riverbed is trespassing.
Care must be taken when paddling to provide for the safety of all passengers.  State and federal laws require operators of paddlecraft to have a personal flotation device for each person on, an efficient sound-signaling device, and, if paddling after sunset, a light source visible from 360 degrees.  Texas Parks and Wildlife Department offers safety tips for paddlers and, with its Texas River Guide River/Stream Flow Application, utilizes data from