Carter's Chute Paddling Trail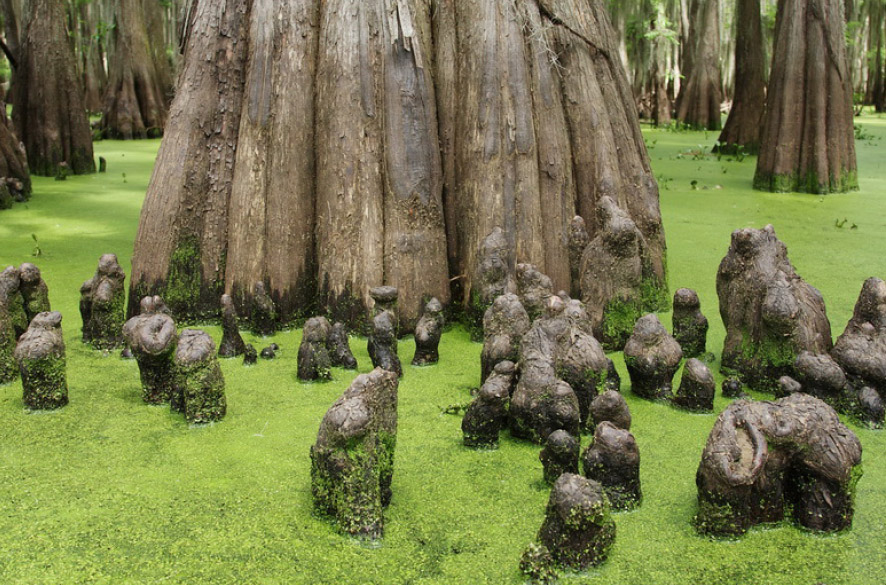 Description: The famed Caddo Lake is a must-see for anyone who loves to paddle!  The 7.6-mile turn-around Carter's Chute Trail begins at the Caddo Lake Wildlife Management Area near Uncertain (entry by permit only), where visitors launch their boat directly into the swamp amidst towering bald cypress trees.  Iconic license plates give a flavor of Caddo's past as they mark the boat cut to Boat Road C, Marker Pole 19.  Here the trail connects with the Hell's Half Acre Trail. Boat Road C is a major boat road that winds through the Caddo Lake swamp and the Caddo Lake Wildlife Management Area. Visitors watch for wood ducks, barred owls, and an occasional black-bellied whistling duck, float under the Goat Island Bridge, then turn around at the boat road marker where Kitchen's Creek meets Caddo Lake. 
Location: Caddo Lake Wildlife Management Area at the Canoe/Kayak Launch on FM 805 (GPS Coordinates (DD): 32.73919, -94.16671)
Directions/map:  From Hwy 43 north of the Big Cypress Bayou, turn right onto FM 805E for about 1 mil.  Turn right on County Road 3414 (F.R. Camp Road) and travel ¼ mile.  Turn right into the campsite.
Location map: Click here.
Float time:  3-4 hours (depending on time spent on the bayou, water level, and wind speed)
Website: Click Here
Outfitters:
This list may not comprehensive; inclusion in this list does not constitute an endorsement.
* East Texas Sonar, 3200 N. Eastman Road, Longview, TX 75605
903-663-4648    www.easttexassonar.com
         
* Johnson's Ranch Marina On Caddo Lake, 5131 East Cypress Drive, Uncertain, TX 75661
903-789-3213 or 903-789-3268      www.johnsonsranch.net
* Riverbend Outfitters, LLC, 2019 FM 726, Jefferson, Texas, 75657
903-746-7068 or 903-926-0203   www.riverbendoutfittersllc.com
Important note: Many paddling trails flow through private property. When the land along a trail is private, paddlers may take out on sandbars within the riverbed, but exiting a canoe or kayak above the riverbed is trespassing.
Care must be taken when paddling to provide for the safety of all passengers.  State and federal laws require operators of paddlecraft to have a personal flotation device for each person on, an efficient sound-signaling device, and, if paddling after sunset, a light source visible from 360 degrees.  Texas Parks and Wildlife Department offers safety tips for paddlers and, with its Texas River Guide River/Stream Flow Application, utilizes data from the U.S. Geological Survey (USGS) to provide real-time flow levels for rivers and streams.