Cherokee Neches Paddling Trail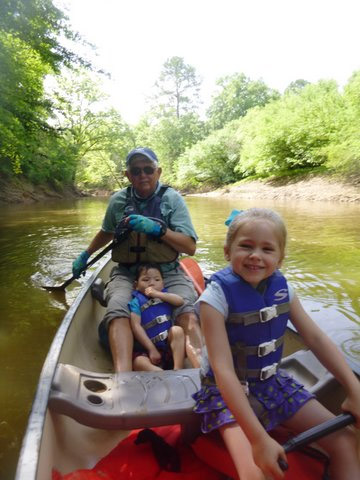 Description: "I had no idea the Neches River was so beautiful" is a common phrase from those traveling the Cherokee Neches Paddling Trail. This 6.6 mile stretch of the upper Neches River features quiet pools, small riffles, and plenty of wildlife. It's good to check locally about water levels, to avoid high water after rains and snags at low flow times. The reward is worth it -- a riparian corridor with a great diversity of plant and animal life. Birdwatchers look for kingfishers, great blue Herons, songbirds, migratory waterfowl, and an occasional bald eagle. Towering oaks frame the bank and a watchful eye may spot deer, otter, beaver, squirrels, turtles, or even an alligator.
Location:  Put-in is at River Run Park on FM 747, Jacksonville; take-out is at the US Hwy 79 bridge on the north side of the highway.
Directions/maps: From Hwy 79 1.6 miles west of Jacksonville, take FM 747 north.  Continue 10 miles to Neches River Run Park, 2001 CR 3315.  Check in at the office for directions to the put-in.
Float time:  3 to 5 hours
Website:  Click Here
Outfitters:
This list may not comprehensive; inclusion in this list does not constitute an endorsement.
* Neches River Run Park, 2001 CR 3315, Jacksonville, Texas 75766
903-724-4100, www.riverrunpark.com
Important note: Many paddling trails flow through private property. When the land along a trail is private, paddlers may take out on sandbars within the riverbed, but exiting a canoe or kayak above the riverbed is trespassing.
Care must be taken when paddling to provide for the safety of all passengers.  State and federal laws require operators of paddlecraft to have a personal flotation device for each person on, an efficient sound-signaling device, and, if paddling after sunset, a light source visible from 360 degrees.  Texas Parks and Wildlife Department offers safety tips for paddlers and, with its Texas River Guide River/Stream Flow Application, utilizes data from the U.S. Geological Survey (USGS) to provide real-time flow levels for rivers and streams.