Chandler Upper Neches Paddling Trail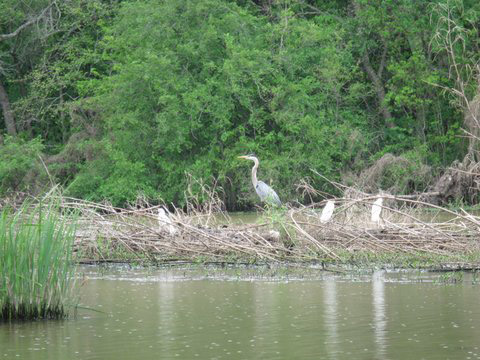 Description: The Chandler Upper Neches Paddling Trail offers a chance to paddle a river or a lake - or both! From the put-in spot just minutes from Tyler or Athens, enthusiasts can paddle upstream a mile or more (depending on water levels) into the upper reaches of the Neches River, or downstream a short way to Lake Palestine.  Once on the lake, travelers can range far and wide, looping along the shore or heading into open water, giving the trail itself a rating of 1 to 8 miles, depending on where paddlers turn around. The upper reaches are known for the white bass run, a great favorite for fishermen, so expect company from February to April.
Location: Chandler River Park, on the north side of Hwy. 31 two miles east of Chandler.
Directions/maps: From Tyler, head west on TX Hwy 31 for 10 miles to the Neches River bridge.  The River Park is on the north side.  From Athens, take TX Hwy 31 for 26 miles to the Neches River bridge.  The River Park is on the north side. 
Alternate Access Site: From Lake Palestine, the closest lake access is Westberry RV park boat ramp, 17027 CR 1110, Flint, TX.
Float time: 1 to 4 hours
Website: Click Here
Outfitter:
This list may not comprehensive; inclusion in this list does not constitute an endorsement.
* Creekside Sports (at the Chandler River Park at certain times, at the store during business hours), 501 Hwy 31 West, Chandler, TX 75758, 903-849-2634.
Important note: Many paddling trails flow through private property. When the land along a trail is private, paddlers may take out on sandbars within the riverbed, but exiting a canoe or kayak above the riverbed is trespassing.
Care must be taken when paddling to provide for the safety of all passengers.  State and federal laws require operators of paddlecraft to have a personal flotation device for each person on, an efficient sound-signaling device, and, if paddling after sunset, a light source visible from 360 degrees.  Texas Parks and Wildlife Department offers safety tips for paddlers and, with its Texas River Guide River/Stream Flow Application, utilizes data from the U.S. Geological Survey (USGS) to provide real-time flow levels for rivers and streams.