Bevilport Paddling Trail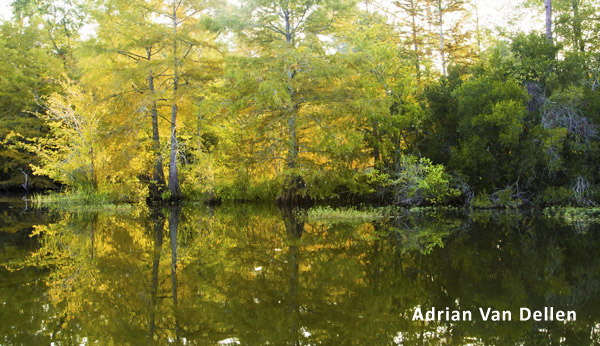 Description: The Bevilport Paddling Trail traverses one of the most diverse wildlife areas in Texas, known as "the Forks", where the Neches and Angelina Rivers flow together.  Beginning at the Bevilport Boat Ramp, a historic riverboat landing site upstream on the Angelina, the trail follows the Angelina to where it joins the Neches, then continues down the Neches to Martin Dies, Jr. State Park, which itself contains three paddling trails. The pristine, old growth river-bottom hardwood forests of the Forks support a wide variety of mammals, birds, and reptiles during all seasons of the year. The Bevilport Paddling Trail utilizes the flows of both rivers, with minimal paddling experience needed. The trail is approximately 9.6 miles with the short-cut and 12 miles without the short-cut.
Location: Put-in: Bevilport Boat Ramp, Bevilport, TX. Take-out:  Walnut Boat Ramp located inside Martin Dies, Jr. State Park (634 Park Lane 48 South, Jasper, TX 75951)
Directions/map: From Jasper, take FM 2799 almost 10 miles until it ends at the Angelina River in Bevilport.  Take-out:  Martin Dies, Jr. State Park is located on Hwy 190, between Jasper and Woodville, Texas.  Enter the Walnut Ridge Unit (north off Hwy 190) onto Park Road 48, go past Nature Center and shelters, turn right at boat ramp sign.  
Location map: Click here.
Float time: 4 to 6 hours
Website: Click Here
Outfitters:  Martin Dies, Jr. State Park, 634 Park Lane 48 South  Jasper, Texas  409-384-5231
This list may not comprehensive; inclusion in this list does not constitute an endorsement.
Important note: Many paddling trails flow through private property. When the land along a trail is private, paddlers may take out on sandbars within the riverbed, but exiting a canoe or kayak above the riverbed is trespassing.
Care must be taken when paddling to provide for the safety of all passengers.  State and federal laws require operators of paddlecraft to have a personal flotation device for each person on, an efficient sound-signaling device, and, if paddling after sunset, a light source visible from 360 degrees.  Texas Parks and Wildlife Department offers  safety tips for paddlers and, with its Texas River Guide River/Stream Flow Application, utilizes data from the U.S. Geological Survey (USGS) to provide real-time flow levels for rivers and streams.