Neches - Davy Crockett Paddling Trail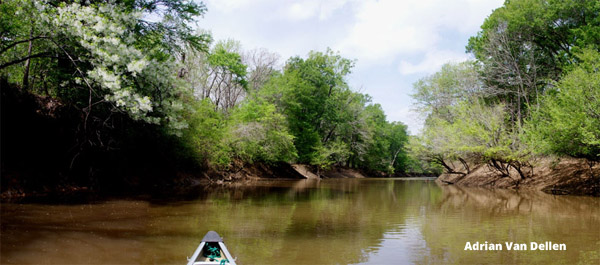 Description: The 9.2-mile Neches - Davy Crocket Paddling Trail flows through scenic bottomland hardwood forests in the Davy Crockett National Forest.  The trail's half-day length makes it great for a family outing, though there may be an occasional logjam or snag to avoid when the water is low. 
Paddlers experience quiet pools with occasional small riffles while enjoying the oaks, hickories, and other river-edge trees towering above and the flowers of dogwood and fringe trees in spring.  The constant rustles and plops made by fish, frogs, and a wide variety of water birds and songbirds make the Davy Crockett Trail an entertaining river trip.  This segment of the Neches River is well known for the Neches River Rendezvous, an annual float trip the first Saturday in June that routinely draws 300 or more paddling enthusiasts. 
Location: On the Neches River within the Davy Crockett National Forest.  Put-in at historic Anderson Crossing on County Road 1155.  Take-out is at the TX Hwy 7 bridge over the Neches. 
Directions/map:
  To put-in:  From Lufkin, take TX Hwy 103 west about 15 miles till it merges into TX Hwy 7.  Continue on Hwy 7 across the Neches River.  About 4.6 miles west of the Neches River, turn right (north) on Forest Road 511. (Watch for the small sign for 511 at the treeline – it isn't obvious).  Take FR 511 to County Road 1155, then turn right on CR 1155 and go until you reach the river (about a 15-minute drive). You will pass a minor bridge over an oxbow; the river bridge is just past the smaller bridge. The boat launch area is on the right on the west side of the river.
  To take-out: From Lufkin take TX Hwy 103 west till it merges into TX Hwy 7.  Continue about a mile to the Neches River.  The boat ramp is on the south side of the highway and the east side of the river at the Frank Ashby Road turn-off.
Float Time: Usually 3 - 4 hours; may be longer during periods of low flow.
Website: Click here.
Outfitters:          
Tack-A-Paw Expeditions (Danny Rowzee), 337-286-9337 or 800-256-9337
This list may not comprehensive; inclusion in this list does not constitute an endorsement.
Important note: Many paddling trails flow through private property. When the land along a trail is private, paddlers may take out on sandbars within the riverbed, but exiting a canoe or kayak above the riverbed is trespassing.
Care must be taken when paddling to provide for the safety of all passengers.  State and federal laws require operators of paddlecraft to have a personal flotation device for each person on, an efficient sound-signaling device, and, if paddling after sunset, a light source visible from 360 degrees.  Texas Parks and Wildlife Department offers safety tips for paddlers and, with its Texas River Guide River/Stream Flow Application, utilizes data from the U.S. Geological Survey (USGS) to provide real-time flow levels for rivers and streams.