Mineola BigFoot Paddling Trail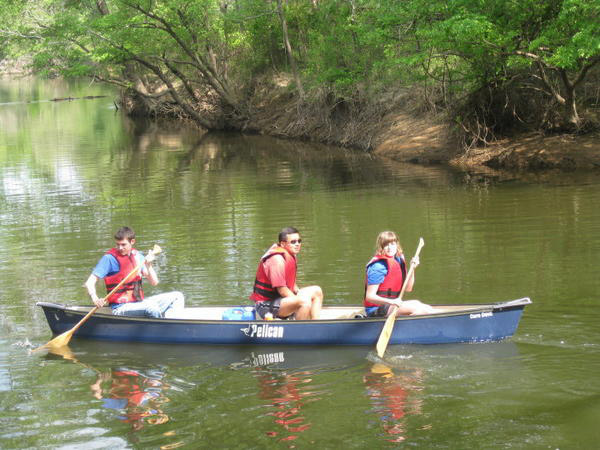 Description: Named for the mythical ape periodically reported to haunt the back woods of East Texas, the Mineola BigFoot Paddling Trail offers a beautiful, tree-shaded stretch of the Sabine River for an 11.9-mile river trip. Termed by one experienced paddler as the most scenic on the Sabine River, the trail offers outstanding opportunities to view birds, alligators, and other wildlife. This stretch is not recommended for boating when the River Depth Gage reads below 2 feet, or when high rainfall events have led to flooding.
Location: The Sabine River from US Hwy 69 at the Sabine River to FM 1804.
Directions/map:
   to put-in:  US Hwy 69 Boat Ramp 1.5 miles south of Mineola, on the west side of the highway and the north side of the Sabine River.
   to take-out: From Mineola, take US Hwy 80 about 6 miles to FM 1804 (also Hoard Road).  Turn right and take FM 1804 south to the Sabine River (between 3 and 4 miles).  Boat ramp is on the west side of FM 1804 and the north side of the river.
   to alternate access site: Access available at an excellent camp area in the Mineola Nature Preserve 5 miles downriver from the put-in boat ramp, which may be reached this site by water or by hiking or biking inside the Mineola Nature Preserve.
Map: Click here.
Float time: 6 to 8 hours
Website: Click Here
Important note: Many paddling trails flow through private property. When the land along a trail is private, paddlers may take out on sandbars within the riverbed, but exiting a canoe or kayak above the riverbed is trespassing.
Care must be taken when paddling to provide for the safety of all passengers.  State and federal laws require operators of paddlecraft to have a personal flotation device for each person on, an efficient sound-signaling device, and, if paddling after sunset, a light source visible from 360 degrees.  Texas Parks and Wildlife Department offers safety tips for paddlers and, with its Texas River Guide River/Stream Flow Application, utilizes data from the U.S. Geological Survey (USGS) to provide real-time flow levels for rivers and streams.