Welcome to East Texas Outdoors!
The scenic beauty of East Texas' forests, streams, trails, and rivers awaits you with countless opportunities to get outdoors to hike, paddle, and enjoy other active recreation.
Texas Conservation Alliance, tcatexas.org, invites you to use this website to find great outdoor opportunities.  East Texas is one of the state's best kept secrets.  The dusty cowboy plains have captured the public imagination as the image of Texas, but Texas is so much more – mountains, forests, prairies, and coastlines, lakes, rivers, and springs.  All make great exploration – and none more than the East Texas Forest Country, with its diverse wildlife and well-watered woodlands. 
Join us on an adventure, on foot, by bicycle, or in a canoe or kayak, to get to know EAST TEXAS OUTDOORS!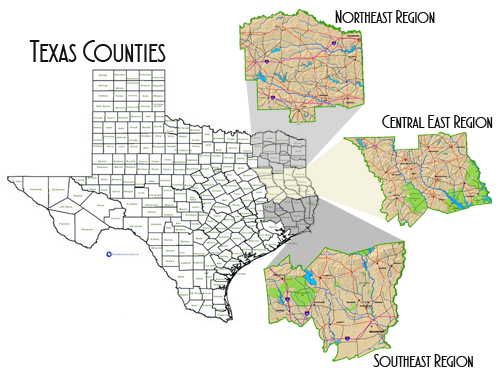 One of the many ways to explore our trail listings is by geographic regions. Click on the three regional maps above to view trails in that region or use the menus to view trails by type such as urban, nature or paddling. You can also view trails by amenities such as camping, fishing, hiking or by county!
Save