Kirby Nature Trail/Sandhill Loop Trail in Big Thicket National Preserve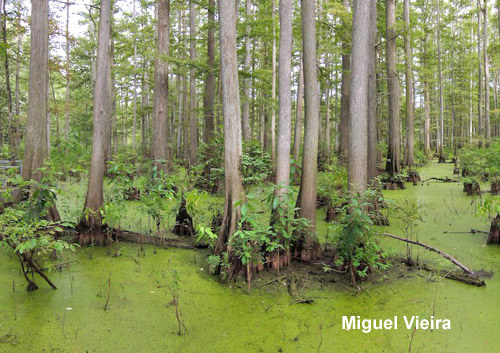 Description: The Kirby Nature Trail passes through several plant communities of the famed Big Thicket, including a slope forest, cypress sloughs, and the riparian zone along Village Creek. The various loops, ranging from 1.5 to 2.5 miles, offer visitors a glimpse of the wonderful richness of the region's natural areas. An interpretive trail guide is available at the Big Thicket National Preserve Visitor Center.
The Sandhill Loop Trail begins with the Kirby Nature Trail, then crosses the bridge over Village Creek and follows the Turkey Creek Trail north for 0.8 mile to its entrance. The Sandhill Loop Trail makes a loop of 1.3 miles through a forest of longleaf pines.  Once so abundant they gave East Texas the nickname "Piney Woods", longleaf pines now occupy only 3% of their historic range.  Restoration of the diverse longleaf pine ecosystem through the southeastern US is a national conservation priority.  
Amenities: Hiking, bird watching, camping.  Contact or go by Visitor Center for backcountry camping permits, 409-951-6700
Directions/map:  Big Thicket National Preserve Visitor Center at 6044 FM 420 Kountze, TX 77625.  From Visitor Center, go east on FM 420 2.4 miles to trailhead.
Trail Map:  Click here.Map of Big Thicket National Preserve units: Click here.
Admission: Dawn to dusk
Contact: 409-951-6800; Visitor Center 409-951-6700
Website: Click here.
Facebook: Click here.