Turtle Shell Paddling Trail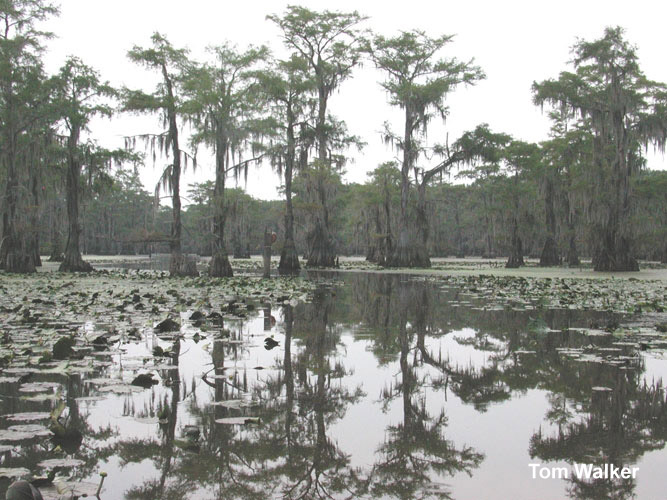 Description: A well-marked maze of boat roads on the 4.6-mile Turtle Shell Paddling Trail gives visitors a clear view of why so many movies have been flimed at Caddo Lake. Standing bald cypress trees hung with Spanish moss make for endless stunning vistas. The flowers and showerhead-shaped seed pods of the American lotus reach protruding several feet above the water make the plant one of the most photographed on the lake. Travelers appreciate extensive birding and wildlife watching opportunities and enjoy the charm of Caddo Lake cottages.
Location: Put-in and take-out: Johnson's Ranch Marina boat launch (launch fee applies).
Directions/maps: From Hwy 43, take FM 2198 about 5 miles its end.  Go straight at the stop sign and turn left at the Johnson's Ranch Sign, the entrance to the marina. The boat ramp is on the left.
Float time:  2 to 3 hours
Website: Click here.
Outfitters:
This list may not comprehensive; inclusion in this list does not constitute an endorsement.
* East Texas Sonar, 3200 N. Eastman Road, Longview, TX 75605
903-663-4648    www.easttexassonar.com
* Johnson's Ranch Marina On Caddo Lake, 5131 East Cypress Drive, Uncertain, TX 75661
903-789-3213 or 903-789-3268      www.johnsonsranch.net
* Riverbend Outfitters, LLC, 2019 FM 726, Jefferson, Texas, 75657
903-746-7068 or 903-926-0203   www.riverbendoutfittersllc.com
Important note: Many paddling trails flow through private property. When the land along a trail is private, paddlers may take out on sandbars within the riverbed, but exiting a canoe or kayak above the riverbed is trespassing.
Care must be taken when paddling to provide for the safety of all passengers.  State and federal laws require operators of paddlecraft to have a personal flotation device for each person on, an efficient sound-signaling device, and, if paddling after sunset, a light source visible from 360 degrees.  Texas Parks and Wildlife Department offers safety tips for paddlers and, with its Texas River Guide River/Stream Flow Application, utilizes data from the U.S. Geological Survey (USGS) to provide real-time flow levels for rivers and streams.