Little Lake Creek Wilderness in Sam Houston National Forest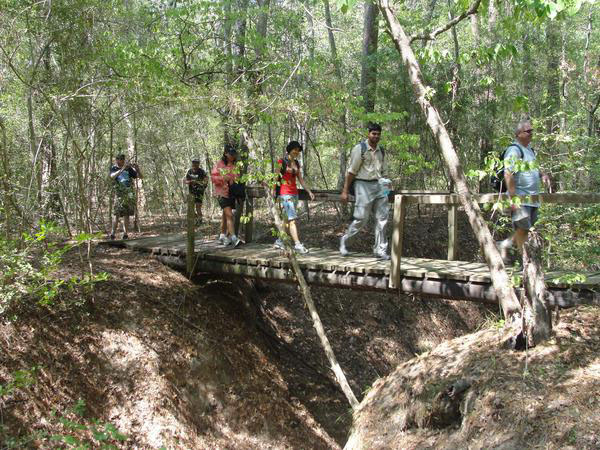 Description:  The 3,855-acre Little Lake Creek Wilderness in the Sam Houston National Forest (SHNF), on the western edge of the Piney Woods of East Texas, is bisected by three major creek drainages: Little Lake Creek, Pole Creek, and Sand Branch. Loblolly and shortleaf pines dominate ridgetops separated by a wide variety of hardwood trees along the creek channels, creating a rich ecological mosaic.  The Lone Star Hiking Trail accesses the wilderness, but hikers should inquire locally about conditions during wet periods, as the trail may be muddy.  Wilderness areas are managed to maintain natural, pristine environments, and motorized vehicles, logging, and other intrusive activities are prohibited. 
Amenities: hiking, hunting, fishing, horseback riding, primitive camping
Location: 394 FM 1375 West, New Waverly, Texas 77358 (SHNF park office)
Directions/map: From Conroe, take I-45 eight miles to Willis. Head west on FM 1097 for 12 miles, then north on FM 149 for 3½ miles to designated wilderness parking area.  Parking areas:  (1) on west side of wilderness, about two miles south of FM 149 at the intersection of Forest Road 211 and the Lone Star Hiking Trail; (2) on the eastern side of the wilderness, on FM 149 about 3½ miles south of FM 1375; and (3) on FM 149, at the southern boundary of SHNF.
Location and site map for Sam Houston NF: Click here.
Admission: Open year-round.
Contact: 936-344-6205 (SHNF park office)
Website: Click here.
Facebook: Click here.