Sundew Trail at Big Thicket National Preserve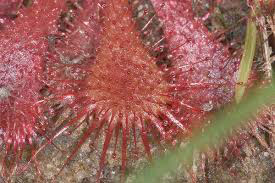 Description: The Sundew Trail is one of the best places in the Big Thicket National Preserve to see birds and wildflowers. Located in the Hickory Creek Savannah Unit, the two loops of this trail are both paved. Both the inner 0.8-mile loop and the outer 1.6-mile loop pass through a small bog that supports carnivorous pitcher plants and sundews. The inner loop continues through a savannah that has abundant spring summer wildflowers, while the outer loop winds through a woodland composed primarily of longleaf pines, the tree that gave East Texas the nickname "Piney Woods".
Amenities: hiking, birdwatching.
Location: Big Thicket National Preserve Visitor Center at 6044 FM 420 Kountze, TX 77625.
Directions/map:    From the Visitor Center, go north on US 69/287 for almost 7 miles to FM 2827.  Head west on FM 2827 for just over half a mile and turn south on County Road 1910 for about half a mile.
Trail map:  Click here.
Admission: Dawn to dusk
Contact: 409-951-6800; Visitor Center 409-951-6700
Website: Click here.