Big Thicket National Preserve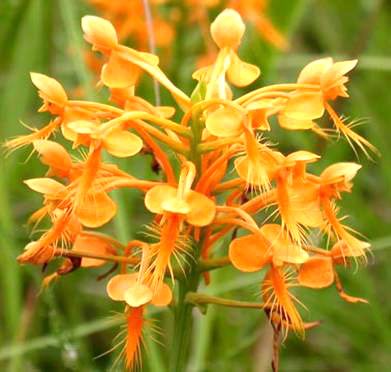 Description: The convergence of multiple habitats makes the Big Thicket one of the most biologically diverse places in the world.  The Big Thicket National Preserve, a jewel of the National Park System, celebrates this incredible diversity and offers exceptional hiking opportunities.  Designated an International Biosphere Reserve by the United Nations Education, Scientific and Cultural Organization (UNESCO), the Preserve features forty miles of trails and waterways meander in nine different ecosystems.  Desert plants like cacti and yucca grow near native longleaf pine forests.  Palmettos cover the understory of hardwood forests.  Beech-magnolia habitats merge into cypress-lined bayous.
The Big Thicket Preserve consists of fifteen units spread over seven counties and covering 112,250 acres of land and water. Visitors from around the world enjoy the educational displays and a 15-minute minute orientation film at the Visitor Center. Major trails include Big Sandy Trail, Kirby Nature Trail, Pitcher Plant Trail, Sandhill Loop Trail, Sundew Trail, Turkey Creek Trail, and Woodlands Trail. Shorter trails include the heavily-wooded 1.5-mile Beaver Slide Trail, the
mile-long Beech Woods Trail looping through stands of beech and magnolia trees (closed during hunting season); and the half-mile Birdwatchers' Trail, with opportunities to see shorebirds, raptors, and migrant songbirds on Trinity River sandbars. The preserve also contains two exceptional State Paddling Trails - the twenty-one mile Village Creek Paddling Trail and the five mile Cooks Lake to Scatterman Paddling Trail. 
Amenities: Hiking, paddling, camping, birdwatching. No developed campgrounds; backcountry camping permitted in some units with permit (contact Visitor Center, 409-951-6700).  
Location: Visitor Center at 6044 FM 420 Kountze, TX 77625
Directions/maps:
Location map: Click here.
Map of Preserve units: Click here.
Admission: Dawn to dusk; the only fees are for camping and hunting. Visitor Center open from 9:00 a.m. to 5:00 p.m., closed January 1, Thanksgiving Day, and December 25.
Contact: 409-951-6800; Visitor Center 409-951-6700
Website: Click Here

Facebook: Click Here