Pitcher Plant Trail at Big Thicket National Preserve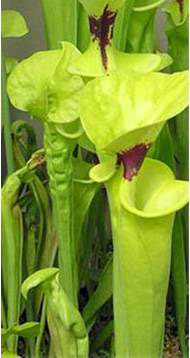 Description: Carnivorous plants are the highlight of the 1-mile Pitcher Plant Trail in the Big Thicket National Preserve.  A boardwalk helps visitors get close to a large bog of pitcher plants and sundews, two of Texas' four carnivorous plants. Trapping and digesting insects and other organisms provides vital nutrients for these plants that grow in poor soils. The trail continues through a mixed woodland, joining the Turkey Creek Trail for a short distance before looping back to the trailhead.
Amenities: Boardwalk to access wet areas.
Directions/map:  Begin at the Big Thicket National Preserve Visitor Center at 6044 FM 420 Kountze, TX 77625.  From the Visitor Center, go north on US Hwy 69/287 --- to FM 1943.  Take FM 1943 4.5 miles east to County Road 4850.  Go south on CR 4850 about 2 miles to the trailhead. You can also access the trail via Turkey Creek Trail.
Trail Map:  Click here.
Admission: Dawn to dusk, year-round.
Contact: 409-951-6800; Visitor Center 409-951-6700
Website: Click here.
Facebook: Click here.